Abordagem endodôntica não cirúrgica em extensa lesão periapical: relato de caso
Resumo
O objetivo deste trabalho é relatar um caso clínico de uma extensa lesão periapical em maxila, tratada somente por uma abordagem endodôntica não cirúrgica, com expressivo reparo periapical. Paciente do sexo feminino, 52 anos, compareceu à clínica odontológica, com a queixa principal de "cisto crescendo na boca". Os dentes 13, 14 e 15 apresentavam-se sem vitalidade pulpar. Os exames radiográficos mostraram duas áreas radiolúcidas, uniloculares, envolvendo os ápices dos dentes 13 e 15, ambos sem sinais de intervenção endodôntica. As áreas eram sugestivas de granuloma periapical e cisto periapical inflamatório, respectivamente. Realizou-se tratamento endodôntico dos dentes 13, 14 e 15. Após 11 meses, notou-se regressão significativa da rarefação óssea periapical, não sendo necessária qualquer intervenção cirúrgica. A paciente continuará em proservação até a remissão completa da lesão. O preparo químico-mecânico, associado ao emprego de medicação intracanal, pode ser suficiente para o reparo de lesões periapicais extensas. Sugere-se que o tratamento conservador seja sempre a primeira opção em casos semelhantes, de forma a se evitar cirurgias parendodônticas invasivas desnecessárias.
Descritores: Endodontia; Cisto Radicular; Tratamento Conservador.
Referências
Hammouti J, Chhoul H, Ramdi H. Non-surgical management of large periapical cyst like lesion: case report and litterature review. J Oral Heal Dent Sci. 2019;3(1):1–7.
Mitra A, Adhikari C. Management of large periapical lesions by non surgical endodontic approach - two case reports. 2017;2(5):97–104.
Al Khasawnah Q, Hassan F, Malhan D, Engelhardt M, Daghma DES, Obidat D, et al. Nonsurgical clinical management of periapical lesions using calcium hydroxide-iodoform-silicon-oil paste. Biomed Res Int. 2018;2018:1-8.
Schulz M, von Arx T, Altermatt HJ, Bosshardt D. Histology of periapical lesions obtained during apical surgery. 2009;35(5):634-42.
Ramachandran Nair PN, Pajarola G, Schroeder HE. Types and incidence of human periapical lesions obtained with extracted teeth. Oral Surg Oral Med Oral Pathol Oral Radiol Endod. 1996;81(1):93-102.
Gutmann JL, Baumgartner JC, Gluskin AH, Hartwell GR, Walton RE. Identify and define all diagnostic terms for periapical/periradicular health and disease states. JOE. 2009;35(12):1658-74.
Antoh M, Hasegawa H, Kawakami T, Kage T, Chino T, Eda S. Hyperkeratosis and atypical proliferation appearing in the lining epithelium of a radicular cyst. Report of a case. J Cranio-Maxillo-Facial Surg. 1983;21(5):210-13.
Natkin E, Oswald RJ, Carries LI. The relationship of lesion size to diagnosis, incidence, and treatment of periapical cysts and granulomas. Oral Surg. 1984;57(1):82-94.
Rathod DM, Mulay SA. Non-surgical treatment of large periapical lesion using various formulations of calcium hydroxide & nd: yag laser. Int J Curr Res. 2017;9(8):56668-72.
Rosenberg PA, Frisbie J, Lee J, Lee K, Frommer H, Kottal S, et al. Evaluation of pathologists (histopathology) and radiologists (cone beam computed tomography) differentiating radicular cysts from granulomas. J Endod. 2010;36(3):423-28.
Sant'ana Filho M, Rados PV. Lesões apicais. In: Silveira JOL, Beltrão GC. Exodontia. 1Porto Alegre: Missau; 1998. cap. 22, p. 275-85.
Sood N, Maheshwari N, Gothi R, Sood N. Treatment of large periapical cyst like lesion: a noninvasive approach: a report of two cases. Int J Clin Pediatr Dent. 2015;8(2):133-37.
Singh U, Nagpal R, Sinha D, Tuhin, Tyagi N. Iodoform based calcium hydroxide paste (metapex):an aid for the healing of chronic periapical lesion. J Adv Res Biol Sci. 2013;6(1):63-7.
Dandotikar D, Peddi R, Lakhani B, Lata K, Mathur A, Chowdary UK. Nonsurgical management of a periapical cyst: a case report. J Int Oral Health. 2013;5(3):79-84.
Calişkan MK. Prognosis of large cyst-like periapical lesions following nonsurgical root canal treatment: a clinical review. Int Endod J. 2004;37(6):408-16. 
Kanmaz F, Altunbaş D, Zan R, Akpınar KE. Nonsurgical endodontic treatment of a large periradicular lesion. Turk Endod J. 2017;2(1):21–4.
Öztan MD. Endodontic treatment of teeth associated with a large periapical lesion. Int Endod J. 2002;35(1):73–8.
Barroso JAY, Uchimura JYT, Endo MS, Pavan NNO, Queiroz AF. Avaliação in vitro da influência da lima patência na manutenção do comprimento de trabalho. Rev Odontol UNESP. 2017;46(2):72-6.
Madhusudhana K, Surada R, Kumar CS, Lavanya A. Non-surgical management of a large periapical lesion: a case report. Ann Essences Dent. 2017;9(2):22-5.
Soares J, Santos S, Silveira F, Nunes E. Nonsurgical treatment of extensive cyst-like periapical lesion of endodontic origin. Int Endod J. 2006;39(7):566-75.
Mohammadi Z, Shalavi S, Yazdizadeh M. Antimicrobial activity of calcium hydroxide in endodontics: a review. Chonnam Med J. 2013;48(3):133-40.
Estrela C, Bammann LL, Pimenta FC, Pécora JD. Control of microorganisms in vitro by calcium hydroxide pastes. Int Endod J. 2001;34(5):341-45.
Soares JA, Brito-Júnior M, Silveira FF, Nunes E, Santos SMC. Favorable response of an extensive periapical lesion to root canal treatment. J Oral Sci. 2008;50(1):107-11.
Downloads
Não há dados estatísticos.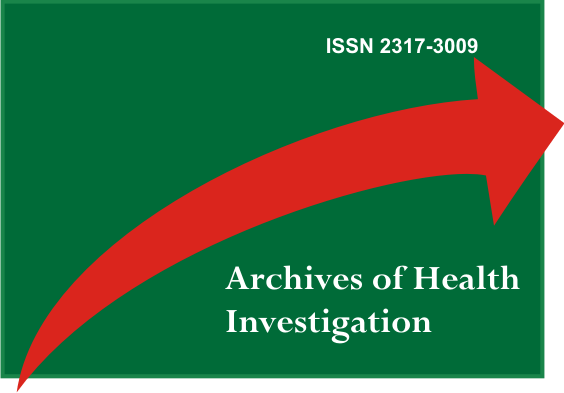 Downloads
Como Citar
Carneiro, M. C., da Costa, F. A., Chicora, P. G. V., Endo, M. S., & Veltrini, V. C. (2020). Abordagem endodôntica não cirúrgica em extensa lesão periapical: relato de caso. ARCHIVES OF HEALTH INVESTIGATION, 9(6), 513–516. https://doi.org/10.21270/archi.v9i6.4816