Análise epidemiológica da candidemia e espécies fúngicas envolvidas
Resumo
Introdução: A candidemia é uma das infecções nasocomiais mais frequentes a nível mundial e apresenta diferentes espécies de Candida envolvidas com o desenvolvimento dessa patologia. Objetivo: Este estudo analisou os aspectos epidemiológicos e as diferentes espécies de Candida associadas à candidemia. Material e Métodos: Uma revisão de literatura foi realizada, através da leitura de artigos científicos publicados nas bases de dados Pubmed e Scielo nos últimos cinco anos. Utilizou-se as seguintes combinações de descritores: Candidemia, Candidemia e Prevalência, Candidemia e Incidência, Candidemia e Candida. Resultados: A candidemia é a infecção fúngica mais hostil atualmente encontrada e prevalente nas populações estudadas. A população mais afetada são os recém-nascidos. Apresenta altas taxas de mortalidade e disseminação em várias partes do mundo. A nutrição parenteral, a administração de antibióticos de amplo espectro, hospitalização prolongada, cirurgia prévia e colonização por Candida sp são os principais fatores de risco relatados na literatura. Múltiplas espécies fúngicas estão associadas a essa condição, porém C. albicans é a mais predominante, seguida por C. parapsilosis e C. tropicalis. Conclusões: A Candidemia é uma patologia prevalente e apresenta alta incidência e morbimortalidade nas populações estudadas das diferentes partes do mundo. C. albicans é a espécie mais associada, seguida por C. parapsilosis e C. tropicalis.
Descritores: Candidemia; Prevalência; Incidência; Candida.
Referências
Treviño-Rangel RJ, Peña-López CD, Hernández-Rodríguez PA, Beltrán-Santiago D, González GM. Association between Candida biofilm-forming bloodstream isolates and the clinical evolution in patients with candidemia: An observational nine-year single center study in Mexico. Rev Iberoam Micol. 2018;35(1):11-16.
Kaur H, Chakrabarti A. Strategies to Reduce Mortality in Adult and Neonatal Candidemia in Developing Countries. J Fungi (Basel). 2017;3(3):41.
Wu PF, Liu WL, Hsieh MH, Hii IM, Lee YL, Lin YT et al. Epidemiology and antifungal susceptibility of candidemia isolates of non-albicans Candida species from cancer patients. Emerg Microbes Infect. 2017;6(10):e87. 
Vasilyeva NV, Raush ER, Rudneva MV, Bogomolova TS, Taraskina AE, Fang Y et al. Etiology of invasive candidosis agents in Russia: a multicenter epidemiological survey. Front Med. 2018;12(1):84-91. 
Barchiesi F, Orsetti E, Osimani P, Catassi C, Santelli F, Manso E. Factors related to outcome of bloodstream infections due to Candida parapsilosis complex. BMC Infect Dis. 2016;16:387. 
Barchiesi F, Orsetti E, Mazzanti S, Trave F, Salvi A, Nitti C, Manso E. Candidemia in the elderly: What does it change? PLoS One. 2017;12(5):e0176576.
Benedict K, Roy M, Kabbani S, Anderson EJ, Farley MM, Harb S et al. Neonatal and pediatric candidemia: results from population-based active laboratory surveillance in four US locations, 2009-2015. J Pediatric Infect Dis Soc. 2018;7(3):e78-e85. 
Bhattacharjee P. Epidemiology and antifungal susceptibility of Candida species in a tertiary care hospital, Kolkata, India. Curr Med Mycol. 2016;2(2):20-7.
Breda GL, Tuon FF, Meis JF, Herkert PF, Hagen F, de Oliveira LZ, Dias VC, da Cunha CA, Queiroz-Telles F. Breakthrough candidemia after the introduction of broad spectrum antifungal agents: A 5-year retrospective study. Med Mycol. 2018;56(4):406-15
Caggiano G, Lovero G, De Giglio O, Barbuti G, Montagna O, Laforgia N et al. Candidemia in the Neonatal Intensive Care Unit: a retrospective, observational survey and analysis of literature Data. Biomed Res Int. 2017;2017:7901763.
Fu J, Ding Y, Wei B, Wang L, Xu S, Qin P, Wei L, Jiang L. Epidemiology of Candida albicans and non-C.albicans of neonatal candidemia at a tertiary care hospital in western China. BMC Infect Dis. 2017;17(1):329. 
Guzzetti LB, Vescina CM, Gil MF, Gatti BM. Candidemias en pediatría: distribución de especies y sensibilidad a los antifúngicos [Candidemia in Pediatrics: Species distribution and antifungal susceptibility]. Rev Argent Microbiol. 2017;49(4):320-22. 
Kofteridis DP, Valachis A, Dimopoulou D, Andrianaki AM, Christidou A, Maraki S, Spernovasilis NA, Samonis G. Factors Influencing Non-albicans Candidemia: A Case-Case-Control Study. 2017; 182(7-8):665-72.
Kubiak DW, Farmakiotis D, Arons V, Hollins RM, Rostas SE, Weiser LM et al. Utility of in-house fluconazole disk diffusion susceptibility testing in the treatment of candidemia. Diagn Microbiol Infect Dis. 2016;84(3):223-26.
Li D, Zhang W, Zheng S, Ma Z, Zhang P, Liu Z. Surveillance study of candidemia in cancer patients in North China. Med Mycol. 2013;51(4):378-84. 
Li D, Xia R, Zhang Q, Bai C, Li Z, Zhang P. Evaluation of candidemia in epidemiology and risk factors among cancer patients in a cancer center of China: an 8-year case-control study. BMC Infect Dis. 2017;17(1):536. 
Lortholary O, Renaudat C, Sitbon K, Desnos-Ollivier M, Bretagne S, Dromer F; French Mycoses Study Group. The risk and clinical outcome of candidemia depending on underlying Intensive Care Med. 2017; 43(5):652-62.
Lovero G, De Giglio O, Montagna O, Diella G, Divenuto F, Lopuzzo M, Rutigliano S, Laforgia N, Caggiano G, Montagna MT. Epidemiology of candidemia in neonatal intensive care units: a persistent public health problem. Ann Ig. 2016;28(4):282-87. 
Márquez F, Iturrieta I, Calvo M, Urrutia M, Godoy-Martínez P. Epidemiología y susceptibilidad antifúngica de especies causantes de candidemia en la ciudad de Valdivia, Chile [Epidemiology and antifungal susceptibility of species producing candidemia in Valdivia, Chile]. Rev Chilena Infectol. 2017;34(5):441-46. 
Pinhati HM, Casulari LA, Souza AC, Siqueira RA, Damasceno CM, Colombo AL. Outbreak of candidemia caused by fluconazole resistant Candida parapsilosis strains in an intensive care unit. BMC Infect Dis. 2016;16(1):433.
Siri L, Legarraga P, García P, González T, Rabagliati R. Cambios clínicos y epidemiológicos de candidemias en pacientes adultos desde 2000 a 2013. Rev Chilena Infectol. 2017;34(1):19-26. 
Spiers R, Smyth B, Lamagni T, Rooney P, Dorgan E, Wyatt T et al. The epidemiology and management of candidemia in Northern Ireland during 2002-2011, including a 12-month enhanced case review. Med Mycol. 2019;57(1):23-9. 
Tiraboschi IN, Pozzi NC, Farías L, García S, Fernández NB. Epidemiología, especies, resistencia antifúngica y evolución de las candidemias en un hospital universitario de Buenos Aires, Argentina, durante 16 años [Epidemiology, species, antifungal resistance and outcome of candidemia in a university hospital in Buenos Aires, Argentina for 16 years]. Rev Chilena Infectol. 2017;34(5):431-40. 
Vena A, Bouza E, Valerio M, Padilla B, Paño-Pardo JR, Fernández-Ruiz M et al. Candidemia in non-ICU surgical wards: comparison with medical wards. PLoS One. 2017;12(10):e0185339. 
Kelly MS, Benjamin DK Jr, Smith PB. The epidemiology and diagnosis of invasive candidiasis among premature infants. Clin Perinatol. 2015;42(1):105-17, viii-ix. 
Wu JQ, Zhu LP, Ou XT, Xu B, Hu XP, Wang X et al. Epidemiology and risk factors for non-Candida albicans candidemia in non-neutropenic patients at a Chinese teaching hospital. Med Mycol. 2011;49(5):552-55.
Navalkele BD, Revankar S, Chandrasekar P. Candida auris: a worrisome, globally emerging pathogen. Expert Rev Anti Infect Ther. 2017;15(9):819-27. 
Spivak ES, Hanson KE. Candida auris: an Emerging Fungal Pathogen. J Clin Microbiol. 2018;56(2):e01588-17. 
Colombo AL, Guimarães T, Sukienik T, Pasqualotto AC, Andreotti R, Queiroz-Telles F et al. Prognostic factors and historical trends in the epidemiology of candidemia in critically ill patients: an analysis of five multicenter studies sequentially conducted over a 9-year period Intensive Care Med. 2014;40(10):1489-98.
Gehring GM, Carrilho CMM, Pelisson M, Perugini M, Tano ZN. Candidemia: Revisão Bibliográfica. J Infect Control. 2015;4(4):1-19.
Lepak A, Andes D. Fungal sepsis: optimizing antifungal therapy in the critical care setting. Crit Care Clin. 2011;27(1):123-47.
Pappas PG, Kauffman CA, Andes DR, Clancy CJ, Marr KA, Ostrosky-Zeichner L et al. Clinical Practice Guideline for the Management of Candidiasis: 2016 Update by the Infectious Diseases Society of America. Clin Infect Dis. 2016;62(4):e1-50.
Wisplinghoff H, Ebbers J, Geurtz L, Stefanik D, Major Y, Edmond MB et al. Nosocomial bloodstream infections due to Candida spp. in the USA: species distribution, clinical features and antifungal susceptibilities. Int J Antimicrob Agents. 2014;43(1):78-81.
Downloads
Não há dados estatísticos.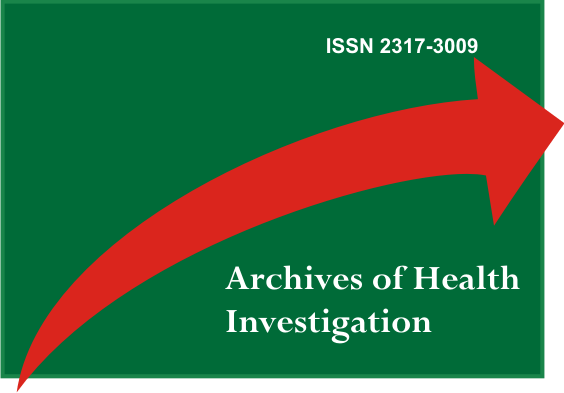 Downloads
Como Citar
Sousa, L. X. de, Sousa, L. C. O., Cruz, J. H. de A., Queiroz, R. G. de, Ribeiro, E. D., & Freire, J. C. P. (2020). Análise epidemiológica da candidemia e espécies fúngicas envolvidas. ARCHIVES OF HEALTH INVESTIGATION, 9(6), 592–595. https://doi.org/10.21270/archi.v9i6.4830