Endodontic retreatment due to secondary periapical injury: case report
Resumo
Pulp diseases commonly happens because of the actions of bacteriological factors and show their characteristic signs and symptoms over the time. With pulp necrosis, a degenerative process starts and when there is no early treatment, it is possible to occur periapical lesions as a result of aggression to the pulp. In cases of periapical secondary lesions, clinical signs and symptoms persist and are related to secondary infection due to persistent bacterial contamination, also to operative factors, inadequate obturation or poor coronary restoration. This study aimed to report a case of endodontic retreatment and clinical and radiographic follow-up for 8 years, of chronic periapical abscess case, in which after retreatment, clinical signs and symptoms are no longer observed and bone neoformation is noticed.
Descriptors: Periapical Diseases; Endodontics; Periapical Abscess.
Referências
Alani AH. Endodontic treatment of bilaterally occurring four-rooted maxillary second molars: case report. J Can Dent Assoc. 2003;69(11):733–35.
Slowey RR. Radiographic aids in the detection of extra root canals. Oral Surg Oral Med Oral Pathol 1974;37(5):762-72
Bergenholtz G, Malmcrona E, Milthon R. Endodontic treatment and periapical status I. Radiographic evaluation of the frequency of endodontically treated teeth. Tandl€akartidningen. 1973; 65:64–73 (In Swedish, English summary).
Buckley M, Spangberg LS. The prevalence and technical quality of endodontic treatment in an American subpopulation. Oral Surg Oral Med Oral Pathol Oral Radiol Endod. 1995;79(1):92–100.
Saunders WP, Saunders EM, Sadiq J, Cruickshank E. Technical standard of root canal treatment in an adult Scottish sub-population. Br Dent J. 1997;182(10):382-86.
Segura-Egea JJ, Jimenez-Pinzon A, Poyato-Ferrera M, Velasco-Ortega E, Rios-Santos JV. Periapical status and quality of root fillings and coronal restorations in an adult Spanish population. Int Endod J. 2004;37(8):525-30.
Kabak Y, Abbott PV. Prevalence of apical  periodontitis and the quality of endodontic treatment in an adult Belarusian population. Int Endod J. 2005;38(4):238-45.
Glickman GN. AAE consensus conference on diagnostic terminology: background and perspectives. J Endod. 2009;35:1619.
Gutmann JL, Harrison JW. Surgical endodontics: an online study guide. Blackwell Scientific Publications; 1991.
Molven O, Halse A, Grung B. Incomplete healing (scar tissue) after periapical surgery - radiographic findings 8 to 12 years after treatment. J Endod. 1996;22(5):264-68.
Macedo, IL Retratamento endodôntico: opção terapêutica do insucesso endodôntico. BJHR. 2018;1(2):421-31.
Souza VC et al. Tratamento do insucesso endodôntico. Rev Odontol Bras Central. 2018; 27:44-48.
Bender IB, Seltzer S, Soltanoff W. Endodontic success – a reappraisal of criteria. Oral Surg Oral Med Oral Pathol. 1966; 22(6):790–802.
Rubinstein R A, Kim S. Long-term follow-up of cases considered healed one year after apical microsurgery. J Endod. 2002; 28(5):378-83.
Estrela C et al. Characterization of successful root canal treatment. Braz Dent J. 2014; 25(1):3-11 http://dx.doi.org/10.1590/0103-6440201302356
Kaled GH et al. Retratamento endodôntico: análise comparativa da efetividade da remoção da obturação dos canais radiculares realizada por três métodos. RGO, Rev. gaúch. odontol. (Online). 2011;59(1):103-8.
Rossi-Fedele G, Ahmed HMA. Assessment of rootcanal filling removal effectiveness using micro–computedtomography: a systematic review. J Endod. 2017;43(4):520-26
Barbosa SV, Burkhard DH, Spanberg LSV. Cytotoxic effects of gutta-percha solvents. J Endod. 1994; 20(1):6-8.
Zakariasen KL, Brayton SM, Collinson DM. Efficient and effective root canal retreatment without chloroform. J Canad Dent Assoc. 1990; 56(6):509-12.
Pecora JD, Spano JC, Barbin EL. In vitro study on the softening of gutta-percha cones in endodontic retreatment. Brazilian. Braz Dent Journal. 1993; 4(1): 43-7.
Scelza MF et al. Comparative SEM evaluation of three solvents used in endodontic retreatment: an ex vivo study. Journal of Applied Oral Science. 2008; 16(1):24-9.
Marques da Silva B et al. Effectiveness of ProTaper, D-RaCe, and Mtwo retreatment files with and without supplementary instruments in the removal of root canal filling material. Int Endod J. 2012; 45(10):927-32
Song M1 et al. Analysis of the cause of failure in nonsurgical endodontic treatment by microscopic inspection during endodontic microsurgery. J Endod. 2011;37(11):1516-9.
Albuquerque MS et al. Sealing Capacity of Bulk-fill Resin in Endodontically Treated Teeth. The Journal of Contemporary Dental Practice. 2019; 20(3): 311-17
Zancan RF, Vivan RR, Lopes MRM et al. Antimicrobial activity and physicochemical properties of calcium hydroxide pastes used as intracanal medication. J Endod. 2016. 42(12):1822-28.
Buttler TK, Crawford JJ. The detoxifying effect of varying concentrations of sodium hypochlorite on endotoxins. J Endod. 1982; 8(2):59-66.
Foley DB, Weine FS, Hagen JC, deObarrio JJ. Effectiveness of selected irrigants in the elimination of bacteroides meloninogenicus from the root canal system: an in vitro study. J Endod. 1983; 9(6):236-41.
Abou-Ran M, Oglesby SW. The effects of temperature, concentration and tissue type on the solvent ability of sodium hypochlorite. J Endod. 1981; 7(8):376-7.
Lee JK et al. Physicochemical Properties of Epoxy Resin-Based and Bioceramic-Based Root Canal Sealers. Bioinorg Chem Appl. 2017; 1-8. 
Kandemir DG, Caliskan MK. A prospective Ramdomized  Comparative Study of Cold Lateral Condensation Versus Core/Guta Percha in Teeth with Periapical Lesions. J Endod. 2016; 42(2):206-10
Karaman E, Keskin B, Inan U. Three-year clinical evaluation of class II posterior composite restorations placed with different techniques and flowable composite linings in endodontically treated teeth. Clin Oral Investig. 2017; 21(2):709-16.
Downloads
Não há dados estatísticos.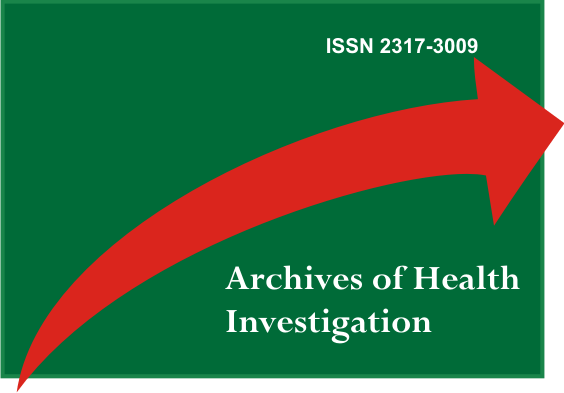 Downloads
Como Citar
Albuquerque, M. S. de, Nascimento, A. S., Mendes, C. L., Oliveira, L. J. R. de, Soares, M. de L., Lago, M. C., Nascimento, A. do, Silva, D. F. de L. e, & Braz, R. (2020). Endodontic retreatment due to secondary periapical injury: case report. ARCHIVES OF HEALTH INVESTIGATION, 9(6), 503–506. https://doi.org/10.21270/archi.v9i6.4959